Back to works
Lavazza
Italy's first Smart Coffee Machine powered by Alexa.

Lavazzy Voicy A MODO MIO — Your new trusted barista
Team

Tangity
NTT DATA
Lavazza
Amazon
K+
Services

Content Design
UX and Service Design
UX Writing
Interaction Design
IoT
Studios

Milan
Rome
Duration

14 months
The challenge
When we were called to design the user experience of Voicy, Lavazza's first Alexa Smart Coffee Machine, our aim was to enhance the coffee moment by linking a series of services to the product. At the same time, we aimed to broaden the scope of the Lavazza's historic claim — "at home like at the bar" — by replicating the user experience with a trusted barista who knows their clients' tastes, understands their rhythms and purchase preferences.
However, Lavazza did not just want to become the first Italian coffee machine player with Alexa integration but, instead, use data analysis to gain a better understanding of their consumers and offer a new way of purchasing Lavazza capsules, extending the company's presence on the global market and positioning Voicy as a smart home product accessible to everyone.
The methodology
First, we defined custom service skills identifying use cases to then move on to designing the conversation with the coffee machine.
The innovation design concept revolves around the value of simplicity: the product must be immediately understandable to become part of people's habits and lives.
The user experience must be fluid and harmonious on all devices: voice, app, display of the coffee machine.
We used a collaborative approach to define the perimeter in co-design sessions with the customer and the developementpartner who was designing the app. To work in groups, we have chosen a narrative tool, the storyframes. This approach allowed us to fully immerse ourselves in the experience, identifying both the micro-moments as well as high-level objectives.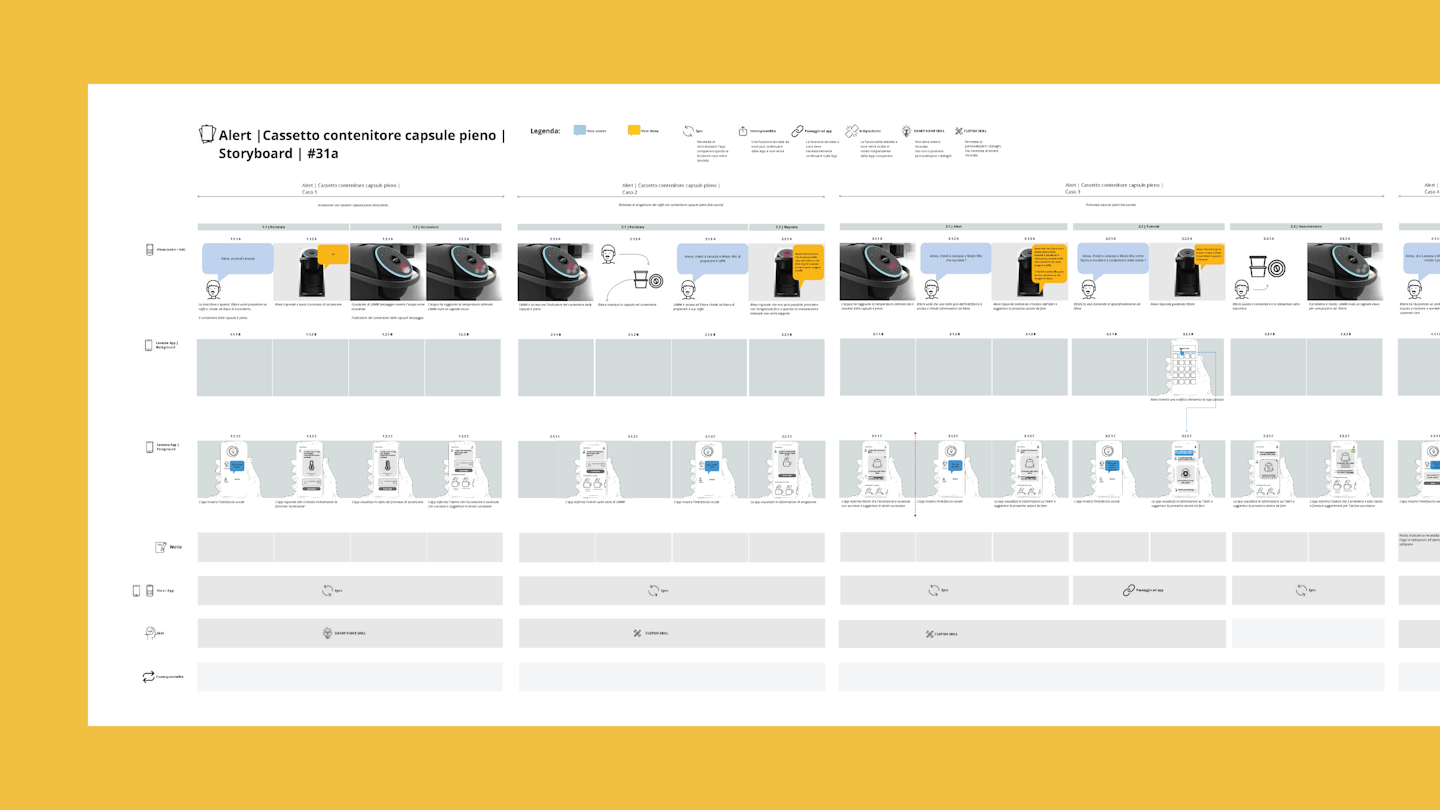 The insight
In our design innovation concept, the use cases had to be specific. For this unique vocal user experience, we needed to define a clear perimeter to be effective, after which we could design dialogues starting from real human conversations.
The solution
Thanks to our design consultation, Lavazza was able to define the flow of the first smart coffee machine. We've designed a personalized user experience that gives consumers the sensation of having their trusted barista right in the comfort of their home.
Now, Lavazza Voicy can:
Make personalized coffee
Associate a personalized coffee to the voice of a user
Guide the user step-by-step through the descaling process
Explain FAQs
Provide a privileged access to customer care
Receive tutorials via app
Get alert explanations
Remind users of their friends' coffee preferences (milk, sugar, toppings, etc)
Provide information on usage statistics
Update the number of capsules available and indicate when to buy new ones
Share fun facts about the brand
Collaboration
2 labs
with 25 participants
Team
1 team
incl. Content, UX and IoT